[Updated 3/9/2018] Ready to trade your aging handset for the latest model? Before you do, make sure to wipe everything off your iPhone or Android phone first. Here's how, plus some details on how to back up all your data first.
Why you should wipe everything off your iPhone or Android phone before selling or trading it
Here's the thing: your old iPhone or Android device is simply brimming with all kinds of personal data, like usernames, passwords, phone numbers, photos, email … you name it.
Now, you'd never hand over family photos, your checking account numbers, or a stack of email to a perfect stranger, would you? Of course not—but that's essentially what you'd be doing were you to sell or give away an old iPhone without wiping it first.
Luckily, you can erase every last bit of personal data off your iPhone or Android phone in just a few taps.
How to wipe everything off an iPhone
Tap the Settings icon on the main home screen, tap General, then scroll down to the bottom of the screen and tap Reset.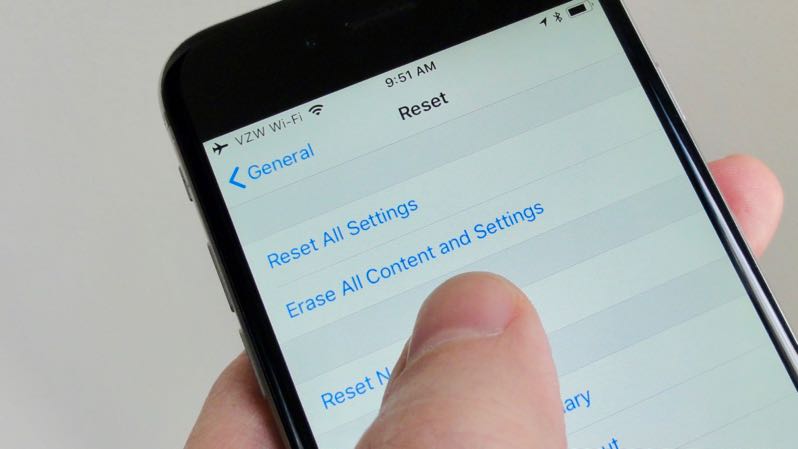 Next, tap the second button on the screen—the one that reads "Erase All Content and Settings." If you've locked your iPhone with a passcode, you'll have to enter it before proceeding.
A pop-up will appear asking if you'd like to back up your iPhone data—including your contacts, calendar info, app data, and photos—to iCloud before you wipe your handset.
Even if your iPhone automatically backs itself up to iCloud every night, you should tap Backup and Erase just to be sure. If you're confident that your iPhone data is already backup up—or if you simply don't care whether it is or not—tap Erase Now to wipe your iPhone immediately.
Keep in mind that it could take anywhere from several minutes to an hour for your iPhone to completely wipe all your data. Indeed, you might want to plug in your iPhone's AC adapter if its battery is running low.
How to wipe everything off an Android phone
Note: The following instructions are for wiping an Android phone running on Google's official "stock" version of Android. If you're using one of Samsung's Android phones or an Android handset running on a modified version of Android, the steps may be slightly different.
Before you do anything else, consider backing up your Android data before wiping your handset. The easiest way to do so is by backing everything up to your Google Drive account—and yes, if you have a Google account, you have a Google Drive account.
Just tap Settings, System, Backup, then enable (if it isn't already) the Back Up to Google Drive setting.
Next, head back to the main Settings screen, then tap System, Reset options. On the next screen, tap Erase All Data, then scroll all the way down and tap Reset Phone.
As with the iPhone, it could take several minutes or longer for your Android phone to erase itself—and again, if your handset is low on power, you should connect the AC adapter.
Still have questions? If so, leave a comment or drop me a line!