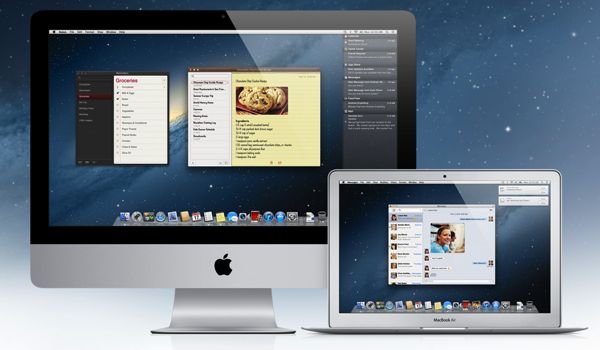 The latest version of the Mac operating system has arrived with a grab bag of enticing new features, including a "Notification Center" with alerts for incoming e-mail and calendar alerts, voice dictation, text messaging with iPhone, iPad, and other Mac users, and the ability to "mirror" a newer Mac's display to an Apple TV-connected HDTV.
Not bad, and the price—just $20—is right. So, what are you waiting for?
Well, before you jump to the Mac App Store and begin installing, there are a few things you need to do before making the Mountain Lion leap. Once you're done, by all means, go buy the update and start downloading.
1. Make sure your Mac will support with Mountain Lion

A major operating-system update like Mountain Lion usually demands more power and performance from your computer—and inevitably, there are older systems that no longer have the horsepower to keep up.
For this year's Mountain Lion update, there's a slew of iMacs, MacBooks, and professional-grade Macs that don't make the cut. Apple has a list of Macs that do support Mountain Lion right here, but I'll go ahead and give it to you:
iMac (mid 2007 or newer)
MacBook (late 2008 Aluminum, or early 2009 or newer)
MacBook Pro (mid/late 2007 or newer)
MacBook Air (late 2008 or newer)
Mac mini (early 2009 or newer)
Mac Pro (early 2008 or newer)
Xserve (early 2009)
So, how do you find out which year your Mac was made? If your system is running on "Lion" (last year's big Mac update), just open the Mac menu in the top-left corner of the screen, select About This Mac, and click the More Info button. When you do, the next window will tell you the model and date for your particular Mac.
Another way of looking up your Mac's pedigree is by pulling up its serial number (which, again, you'll find in the About This Mac window) and plugging the last few digits into a Mac serial-number lookup site, like this one.
If your Mac is new enough for the Mountain Lion update, congrats! If not, don't worry—you can continue to use your current Mac with its older operating system, but you won't be getting any new Mac OS X features…ever, unfortunately.
2. Check for updates
Before you start installing Mountain Lion, you'll want to make sure your current system software is completely up-to-date—and that means checking for software updates.
Go back to the Apple menu in the top-left corner of the screen, open it, and select Software Update.
A window with a blue progress bar will open as your Mac checks for available updates to your system. If it finds any, you'll see a message that reads "New software is available for your computer."
Go ahead and click the blue "Install" button, or click "Show Details" for a list of specific updates that your system wants to install.
Now, if you haven't checked for software updates in awhile, you might have a lengthy list of updates to install; if so, sit back and get ready to wait. I'd also recommend setting your Mac to install new updates automatically; here's how to do it.
3. Back up your Mac

No question about it: there's nothing fun about backing up your hard drive. But if your Mac chokes during the Mountain Lion update and refuses to boot up again, you'll be happy you made the effort.
The good news is that the Mac comes with a built-in, easy-to-use utility called Time Machine. All you need is an external hard drive (which you can snag online for about $100 or so) and a little patience.
Once you have Time Machine all set up, it will back up your Mac once an hour whenever the external drive is connected to your system.
If you have problems with the Mountain Lion update process—or, indeed, if anything bad befalls your Mac—you can use your Time Machine backup to restore your system, either to your old Mac or a brand-new one.
Ready to fire up Time Machine? Visit my step-by-step guide to get started.
Looking for more Mac tips? Click here!