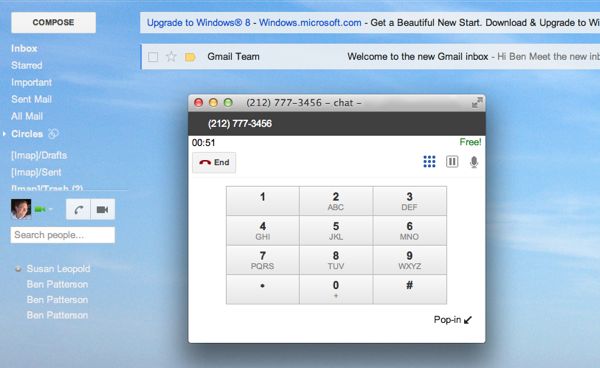 Just a few weeks ago, Google added its "Hangouts" video-chat feature to Gmail's chat module—and, in the process, hid the dialer that lets you make free phone calls through Google Voice.
What gives?
Well, good news. The Google Voice dialer hasn't been permanently yanked from Gmail; in fact, you can get it back right now in just a few clicks.
Here's how…
Open Gmail, then click your chat icon in the left column of the Gmail interface. If you don't see your chat icon, click the little Hangouts button (it's the bubble stamped with quotes) in the bottom-left corner of the Gmail window.
In the drop-down menu that appears, click the "Revert to old chat" option (it's at the very bottom of the menu).
Next, you'll see a pop-up notification warning that you can't have the old Gmail chat feature and Hangouts active at the same time. If you're OK with that, go ahead and click the "Revert to old chat" button.
And, presto! The old "Call phone" button will appear right next to your chat icon. Click it to launch the dialer, then start making some calls.
Bonus tip
So, want to go back and try Google Hangouts after all? Just click your chat icon again, then select "Try the new Hangouts."
Looking for more Gmail tips? Click here!