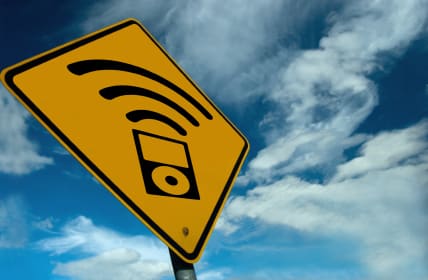 Got tunes on your phone? Sure you do. But what if you could stream your entire music library—and I'm talking all your music, not just the cross section of tracks that fit in your phone's meager memory—on your handset, anytime and anywhere? (Well, anywhere you can get online, that is.)
That's the idea behind the new "in the cloud" digital music lockers that Amazon, Google, and now (supposedly) Apple are scrambling to launch. Nice idea, but getting all your music up into the "cloud" can be a tedious, time-consumer chore … unless you go the "scan and match" way.
While both Amazon and Google managed to beat Apple to the punch with their respective online music lockers (Amazon's is available now, while Google's is still in limited beta), the two services come with a serious wrinkle: namely, you have to upload each and every tune to your locker-in-the-cloud, a process that takes at least a few minutes per song. Multiply that by, say, 30 or 40 albums, and you've got a serious wait on your hands.
This is why "scan and match" is a phrase you'll be hearing a lot more of in the near future, at least where online music is concerned. With the "scan and match" method, rather than having to actually upload each and every tune in your collection into the sky, a music service can simply scan all the tracks on your PC's hard drive, and then match them with a digital master in its cloud-based repository. Theoretically, you could have your entire music collection online and ready to go in minutes or even seconds, rather than hours or days.
The "scan and match" concept isn't a new one, mind you. The first one I ever tried was MP3.com, a tiny online music company that burned brightly—and then flamed out—more than 10 years ago. Rather than scanning the music on your hard drive, MP3.com would access music discs in your system's PC tray and instantly add the tracks to your account for online streaming. Pretty neat—so neat, in fact, that many (if not most) users started swapping CDs with their pals, adding music to their accounts from discs they didn't own. Naturally, it didn't take long for the big music labels to swoop down on MP3.com, ultimately shuttering the company for good.
But while MP3.com came and went, the "scan and match" methodology never quite went away. Some online music companies took the "if you can't beat 'em, join 'em" route with the music industry, signing deals with the labels that allowed for "scan and match" services for a fee. Take a company called Lala, which inked deals with the major labels that let it stream "scan and matched" songs to its users for 10 cents a track.
Interesting idea—so interesting, in fact, that none other than Apple bought Lala in late 2009. Now, guess which big tech company is rumored to launch its own "scan and match" music service in the coming weeks? That's right: Apple.
Of course, the big question is whether the average user actually cares that much about streaming their music from the cloud. Sure, you'd be able to access your entire collection from your smartphone, but what if you don't have a cellular signal, or if you're close to your monthly 3G data limit? And what about the extra strain that streaming music puts on your phone's battery?
Good questions, all—but the "scan-and-match" method of zapping music into the cloud (especially if it is, indeed, adopted by Apple) is likely to take digital music lockers into the mainstream. Whether they'll stay there is … well, up in the air.