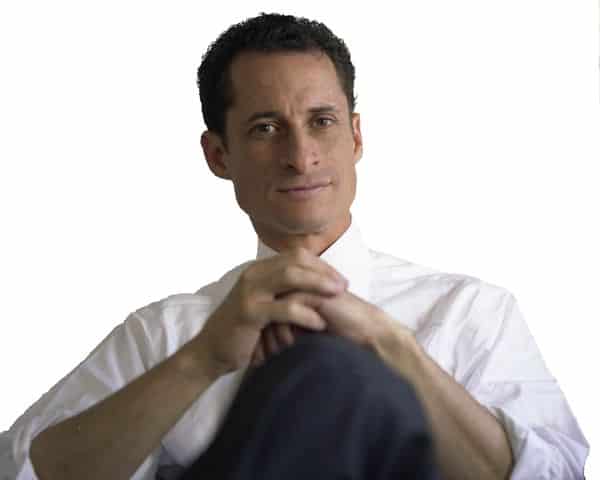 Beyond the obvious question of, you know, why he was sending pictures of himself in skivvies to women who weren't his wife, the sad, sordid saga of (still) New York Congressman Anthony Weiner raises another nagging issue: how did the wayward lawmaker manage to flash his underwear to everyone on Twitter? And while we're at it … what is Twitter, again, and why do people use it?
Well, let's back up and start from the beginning. You probably already know that Twitter is a social network, like Facebook (and if you didn't … hey, no problem), and the idea is to sign up and share messages with friends, family, colleagues, you name it.
But the similarities between Facebook and Twitter pretty much end there. Why? Because on Facebook, you're generally creating your own, private social network with a tight (or not so tight, as the case may be) circle of people you know. Your information—like your pictures, your likes and dislikes, your birthday, and other personal info—remains private among your Facebook "friends," unless you change the appropriate Facebook settings to "public." The same goes for your Facebook status messages—unless you specify otherwise, any musings you post on your wall are only visible to your duly designated Facebook friends (or, perhaps, friends of friends).
On Twitter, however, privacy is the exception, not the rule. Instead of choosing "friends" on Twitter, you "follow" other users—and unless a Twitter user has specifically set their feed to "private," you can follow the tweeted thoughts, jokes, rambles, asides and (yep) pictures of anyone, from your friends and neighbors to the rich and powerful.
Want to know what @oprah is tweeting about today—or @aplusk (Ashton Kutcher), or (gulp) @RepWeiner? Just search for their profiles on Twitter and hit the "Follow" button, and their tweets will begin appearing in your Twitter feed.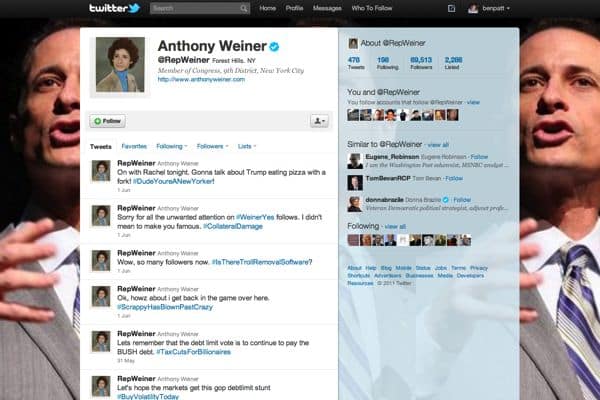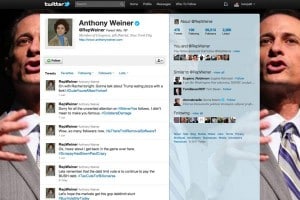 Of course, just because you follow @ladygaga on Twitter doesn't mean she'll suddenly be your Twitter pal. For your tweets to pop on their Twitter feeds, they have to "follow" you back—and in most cases, you'll be waiting in vain. Indeed, as of Tuesday morning, Lady Gaga's record-setting 10.7-million followers outpaced the number of users she follows (about 143,200) by a whopping 75-to-1 margin.
Then again, you may (for one reason or another) be lucky enough to get a follow back from a famous athlete, movie star, or politician—and in the case of Rep. Weiner, it appears that the young woman who received the congressman's … ah, self-portrait … was among the handful of Weiner's 69,000-odd followers that he'd decided to follow back. Why was Weiner following this particular young lady? Good question.
OK, so how did Weiner send a crotch shot publicly on Twitter, rather than privately to this one woman as he clearly intended?
Well, there are two ways to send messages to other Twitter users: via a private "direct message," or DM, or by "replying" to a user with the "@" sign. For example, I can send a DM to Barack Obama with my private thoughts on managing the debt ceiling, or I could publicly reply to him, as in "Hey, @BarackObama, let's do lunch!"
Just to be clear, you can "@" reply to anyone on Twitter, and your public reply will be visible (and searchable) to anyone who's following your Twitter feed or otherwise paying attention. On the other hand, you can only send DMs to Twitter users who are following you; for example, I can DM the president's Twitter account because he (or one of his flunkies, more likely) is following me, but I can't direct-message Lady Gaga, who isn't.
Now, can you guess what happened? Sure you can. Instead of sending his birds-eye vanity shot as a direct message, Weiner hit the "reply" button instead, which posted the message and its eye-opening attachment on his public Twitter feed—and to the feeds of his 69,000-ish followers. By the time the panicked Weiner (I know, I know) trashed the errant message, the damage had been done.
So, have you also been hearing about another type of account—YFrog—that played a role in this lovely little episode? Here's the deal: Until recently, the only way to post a picture (or a video, for that matter) to your Twitter feed was using a third-party service, of which YFrog is one. (Twitter has since announced that it'll soon allow its users to send photos directly.)
In other words, Weiner's offending photo was actually a link on his Twitter feed that pointed back to his YFrog account, where the snapshot had actually been hosted. Weiner quickly deleted the YFrog photo along with his Twitter message, but not before eagle-eyed bloggers had plucked the picture from the site.
Phew … so, that's more or less how Weinergate happened—and hopefully, it also serves as a primer on how not to flirt on Twitter, particularly if you're in politics.
Got more questions about Twitter, tweeting, replies and DMs? Let me know!
Image credit: Rep. Anthony Weiner official website