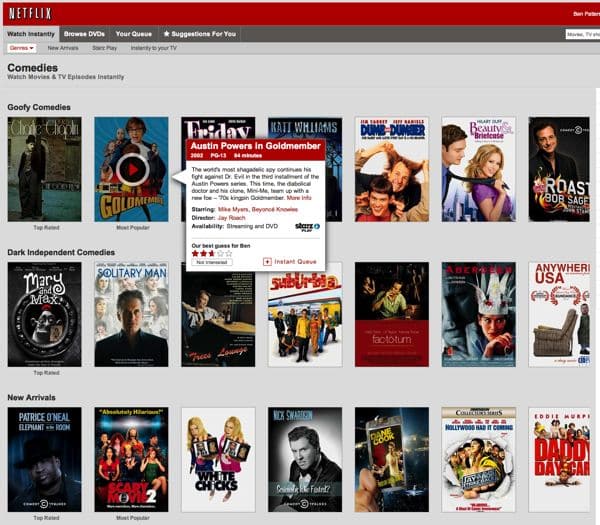 Netflix unveiled a dramatically revamped home page Wednesday that "provides more focus" on its streaming movies and TV shows—and it looks like this latest site makeover is about as popular as the others (which is to say, not very).
The redesign, which appears to apply only to Netflix's "Watch Instantly" titles, replaces the clickable rows of smallish box covers with larger icons that slowly scroll when you hover your cursor near the edge of the page.
The usual star ratings are now hidden—that is, until you hold the cursor over a particular title, which spawns a small pop-up window with the movie and/or TV show description, details, plus the previously missing stars.
Drawing the most ire, however, is the fact that you can no longer sort "Watch Instantly" titles by year, MPAA rating, or star rating—a feature that used to be one of the best ways to pick a video from Netflix's growing streaming collection.
Update: Want to re-enabled sorting for instant Netflix videos? Here's how to do it.
In a post on the official company blog, Netflix Director of Product Management Michael Spiegelman wrote that the redesign "provides more focus on the TV shows and movies streaming from Netflix," and that the new "look and feel" will "make it easier for you to find something to watch instantly."
The steadily growing number of annoyed users who commented on Spiegelman's post were having none of it, however:
It's a horrible design. Flat-out awful. This is one of those design changes that's going to be talked about on the tech-review sites later today, and not in a good way.
…wrote one user. Another:
Please, please, please go back to the old website version. It takes way too long to find something to watch now. We need titles and ratings viewable without mouse hover, and the horizontal scroll takes FOREVER.
…and another:
You've managed to make your layout look sleeker and operate far clunkier. This would be laughably bad, except for the fact that I'm paying for it.
While the redesign wasn't without its defenders…
I like the new interface. No more click click click – just hover to scroll and see program information. You only need to click when you actually want to watch something, add it to your queue or change genres. Big improvement.
…the vast majority of the 80-odd (and rapidly growing) comments on the Netflix blog were of the "this is the worst change to the site since the last one" variety. [Update: There were close to 1,000 comments on the post by Thursday morning, most of them quite testy.]
So, you Netflix users out there, what do you think of the redesign? Love it? Hate it? Cast your vote in the comments below.