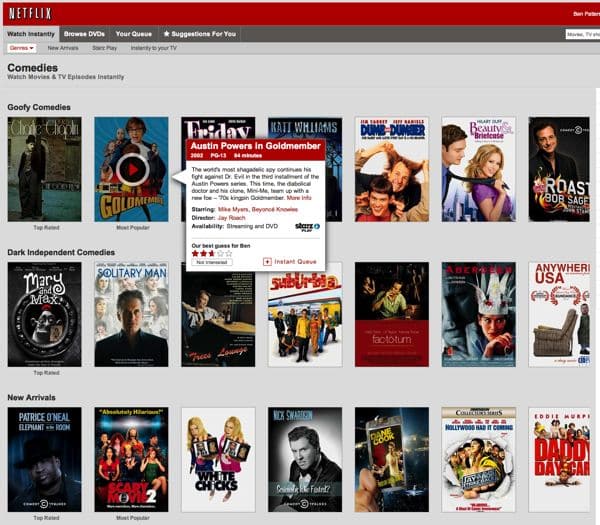 Barely a month after unveiling an extreme makeover of its home page that provided "more focus" on instant videos while nixing the ability to sort them, execs at Netflix say they're ready to change course—at least as far as sorting is concerned, anyway.
While the Netflix.com home page will continue to put "Watch Instantly" movies and TV shows front-and-center (complete with rows of box art that scroll ever so slowly), the missing sorting features that let subscribers organize instant titles by year, MPAA rating, and star rating will be coming back "later this month," according to Netflix's official blog.
"Thank you to those of you who offered thoughtful opinions and suggestions on the new user interface," wrote Michael Spiegelman, Netflix's Director of Project Management. "We'll continue to improve our website experience and will be evaluating other feature ideas for release over the next several weeks."
"Opinions and suggestions" is putting it mildly. From the moment Netflix revealed its home page redesign last month, the company's official blog lit up with thousands of nasty comments, most of which raked Netflix execs over the coals for the "horrible," "flat-out awful," "laughably bad," and "far clunkier" site revamp.
Some Netflix subscribers turned to services such as InstantWatcher, which offers a wide variety of sorting criteria for Netflix's instant movies, while others tried a relatively easy hack (first revealed by Hacking Netflix) that turned back the clock on Netflix's instant video pages.
The ability to sort through Netflix's tens of thousands of instant-streaming titles is somewhat crucial, given the wildly varying quality of available movies and shows. For every "Gone With the Wind" and "2001: A Space Odyssey" in Netflix's Watch Instantly collection, there are dozens of grade-Z titles like "Driven to Kill" (the latest from Steven Seagal), "Sniper 3," and the immortal "Kickboxer 4."
Reaction to Netflix's decision to reverse course on sorting was tepid early Tuesday, with some subscribers giving Netflix credit for changing its mind ("Thank you for listening to your customers") while others continued to grouse about the overall redesign ("still unfriendly to the user").
So, what do you think—happy that sorting for instant videos is returning to Netflix's website? Or would you rather Netflix ditch its home page redesign altogether?