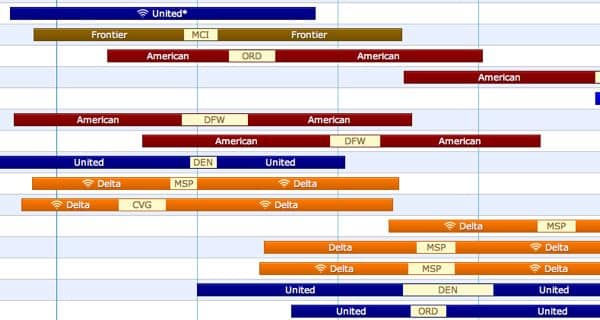 Personally, I'm not the biggest fan of in-flight Wi-Fi, namely because I miss having a few peaceful hours in the air when I could be totally unreachable. But there's no fighting progress, especially when it comes to wireless, and now there's a new tool to help jetsetting workaholics get their Wi-Fi fix at 35,000 feet.
Hipmunk, a site that lets travellers search for and compare upcoming flights using a colorful, easy-to-read timeline, now displays a little wireless icon next to flights with on-board Wi-Fi. There doesn't appear to be a way to filter your travel results for wireless flights only, but the telltale Wi-Fi icons are easy to spot. (The feature will also land on Hipmunk's iPhone app in a future software update, the company promises.)
Once you've ID'd your preferred wireless flights, just click them to start building your trip. All set? With a final click, Hipmunk sends you to Orbitz or the appropriate airline site to complete the booking process. Nice.