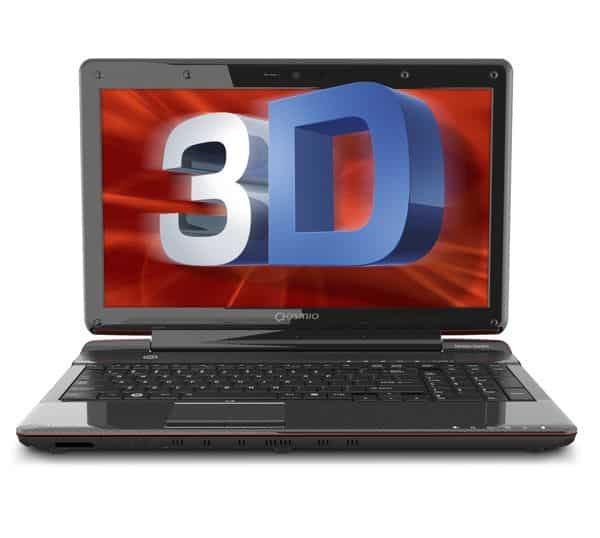 Billed as the first laptop in the world with a glasses-free 3D display, Toshiba's Qosmio F755 will be comin' at ya later this month. 
Just to be clear, I haven't seen Toshiba's new 15-inch laptop in action yet, but apparently it uses essentially the same glasses-free 3D technology as you'll find on the Nintendo 3DS and a few recent 3D-enabled smartphones.
"Pretty darn grainy" is how Technologizer's Harry McCracken describes the Qosmio's 3D effect—and yes, I felt the same way after using the 3DS and HTC's glasses-free Evo 3D smartphone, an otherwise excellent handset if you ignore its gimmicky 3D features.
Slated to arrive in stores this month for $1,699, the F755 boasts a Blu-ray player capable of playing 3D movies, along with the ability to convert 2D DVD video to 3D. The HDMI-equipped laptop can also display 3D and 2D images simultaneously on its 15.6-inch display.
Nice, but it's not clear if Toshiba has truly solved the main problem I've had with glasses-free 3D displays: the fact that if you aren't looking at the screen from a precise angle and distance, the 3D effect collapses into a fuzzy 2D mess of double images.
Toshiba says the F755 uses face-tracking technology to track your eyes and give you a "broader viewing zone"—a clever idea, so long as it works.
So, willing to give Toshiba's glasses-free 3D wonder a try? Or would you rather skip the novelty and get a cheaper 2D laptop?
(Image credit: Toshiba)