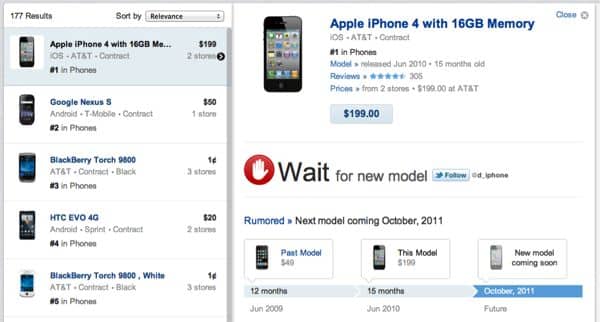 Circling a new Android phone—or the iPhone, for that matter—but worried that a newer model or a price drop is on the horizon? Enter Decide.com, an online shopping site that now offers pricing predictions for dozens of the latest smartphones.
The two-and-a-half-month-old Decide.com already offers shopping advice for HDTVs, laptops, and cameras, but the site began serving up pricing predictions for cell phones—more than 170 of them—this past weekend.
Among the smartphones covered by Decide.com: the speed, feature-packed Motorola Photon 4G, the glasses-free HTC Evo 3D, the Samsung Infuse, and of course, the iPhone 4.
Click on a phone, and you'll get details on the lowest prices from a variety of retailers, links to reviews, and price-drop alerts.
Not bad, but here's what sets Decide.com apart from the pack: a graph that tells you the site's best guess for whether prices for the phone you chose will go up, hold steady, or fall within the next couple of weeks, plus a "buy" or "wait" recommendation.
Decide.com also tells you if it thinks a new and improved model is waiting in the wings—and indeed, for the soon-to-be-obsolete iPhone 4, the site has posted a big red "wait" warning, plus a note that reads "Rumored: Next model coming October, 2011."
How does Decide.com come up with its predictions? As the site's founders explained earlier this summer, it uses a massive database that crunches historical pricing and lineage data for hundreds of gadgets, along with a little help from the hyperactive tech rumor mill.
It's a handy service—particularly when it comes to Android phones, which tend to dip in price soon after hitting the market.
LINK: Decide.com