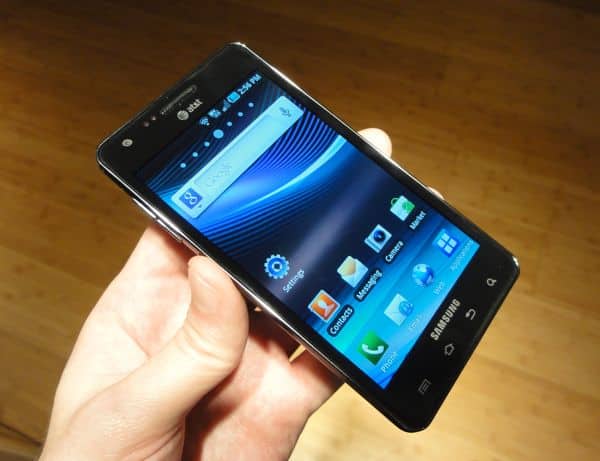 After a few hours with the massive, yet thin and light Infuse 4G—a new Samsung-made Android phone for AT&T—my own, personal iPhone 4 began to look positively puny … and even a tad jealous.
Available from AT&T for $199 with a two-year contract, the Infuse 4G's 4.5-inch screen—a full inch larger than the iPhone's 3.5-inch display, measured diagonally—is guaranteed to turn heads. Based on Super AMOLED display technology (which replaces the backlighting used on standard LCD phone screens with light-emitting pixels, resulting in vivid color and improved contrast), the Infuse's jumbo screen is bordering on tablet size, and it's perfect for surfing the web, showing off snapshots, or playing games. Keep in mind, however, that the display's 800 by 480 resolution is a little shy of "retina display" status, meaning you'll spot some jagginess in text and images if you look closely enough.
Impressively, the Infuse's massive screen won't weigh you down. Weighing in at just 4.9 ounces, the Infuse 4G is just a hair heaver than the iPhone 4G, yet the phone feels lighter due to its overall size (5.15 inches long by 2.77 inches wide, and a mere 0.36 inches thick). But while the Infuse feels pleasingly light and thin, there's no getting around its outsized dimensions; the phone pretty much took up my entire jeans pocket, and it felt as big as a plate when I was holding it against my cheek during (loud and clear) phone calls.
The Infuse doesn't come with a dual-core processor—the hottest new thing in bleeding-edge smartphones, good for improved multitasking performance—but the phone's single-core 1.2GHz more than held its own, managing to deliver smooth, peppy performance.
That said, I was a bit disappointed in the Infuse's 4G data speeds. Don't get me wrong; the Infuse still managed to cruise along at about 1.5Mbps downstream on AT&T's HSPA+ network, but my iPhone 4—which only does 3G on AT&T—was nipping at the Infuse's heels, averaging about 1.3Mbps downstream and even peaking at 2Mbps at one point. When it came to latency, however (the time it takes for a packet of data to make a round trip between your phone and a given server), the Inspire 4G won hands-down, squeaking out an average time of just 130 milliseconds, versus 280ms for the iPhone. (Your mileage will vary, of course, depending on your location and current network performance.)
The Infuse comes with an 8-megapixel camera with an LED flash and auto-focus (near the upper-end for the latest crop of smartphones), plus the ability to record video at resolutions up to 720p (ditto). My test snapshots looked pretty solid, with outdoor shots faring the best; indoor snaps looked predictably noisy, particularly in areas with poor lighting.
My biggest gripe about taking photos with the Infuse had to do with the phone's microSD card, which is hidden behind the handset's battery—meaning you'll have to shut down and restart the phone to remove the memory card. That said, you can always use the included cable to connect the Infuse directly to your PC's USB port for transferring photos, music, and other files.
As for battery life … pretty good, with the Infuse managing to soldier through my testing without dying in the middle of the day.
Here's the thing: The Infuse 4G is an ideal Android-based handset for anyone looking for a smartphone with a big, big screen and reasonably peppy performance. Speed demons, however, may be disappointed by the handset's just-OK data speeds and its lack of a cutting-edge, dual-core processor.