Looks like Amazon's upcoming Kindle Fire tablet will have some stiff competition during the holiday shopping season. Get ready for the Barnes & Noble Nook tablet, which boasts a color screen, a massive book store, HD video playback, and a souped-up processor under its sleek hood.
But how does the Nook Tablet really stack up to the Fire—or, say, more traditional e-readers like the Amazon Kindle or Barnes & Nobile's own Nook Simple Touch?
Read on for a few key things you need to know about the new Nook Tablet, starting with…
It's (almost) the same size as the Kindle Fire, and a little smaller than the iPad
Measuring seven inches diagonally, the Nook Tablet's display is precisely as large (or as small, depending on your point of view) as the one on the upcoming Kindle Fire, and it's a couple inches smaller than the iPad 2's 9.7-inch screen.
Measuring 8.1 by 5 by 0.48 inches, the Nook Tablet's shell is slightly thicker than the Fire's 0.45-inch girth. But at 14.1 ounces, it's also a bit lighter than the 14.6-ounce Fire.
It's more of a multi-function tablet than a single-purpose e-reader
Like the iPad, the Fire, and the Nook Color before it, the Nook Tablet will surf the web, check your email, play music, display the weather, and yes, even let you read books and magazines from Barnes & Noble's mammoth (as in 2.5 million volumes) online Nook store. That's opposed to the smaller, lighter, and cheaper Kindle ($79 and up) and Nook Simple Touch ($99), which are pretty much dedicated e-readers.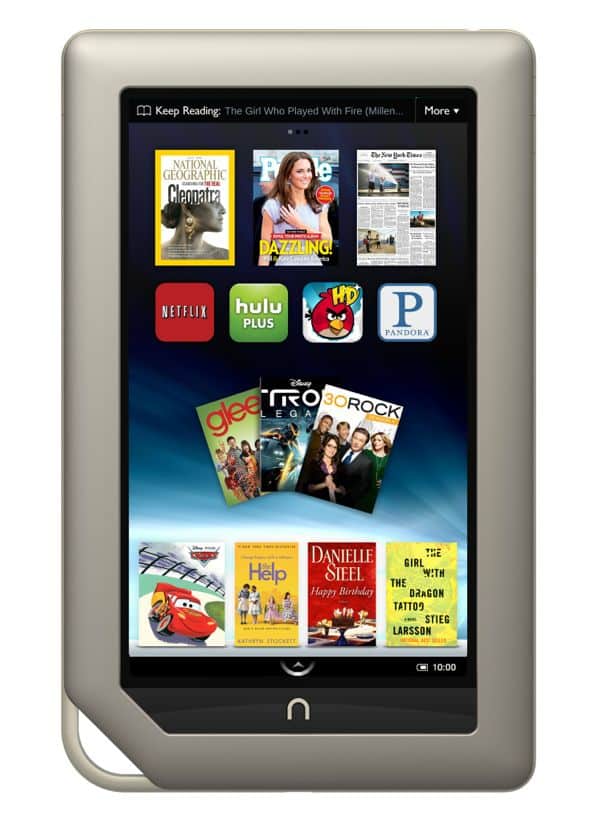 You'll have a hard time seeing the Nook Tablet's screen outside
The Nook Tablet has an LCD display, same as on the iPad and the Kindle Fire. That means while you'll be able to watch movies and TV shows and scroll web pages on the Nook Tablet, you'll also have a tough time seeing its display in the great outdoors, particularly under a bright sun.
It's $250 less than the iPad 2, but $50 more than the Fire
While the $249 Nook Tablet will be one of the cheapest tablets around (compared, say, to the $499 iPad 2) when it debuts later this month, it'll still be a bit pricier than the $199 Amazon Fire.
It packs in more memory than the Fire, and it (supposedly) has better battery life
Yes, the Nook Tablet costs more than the Fire—but you'll also get twice the storage, with Barnes & Noble promising 16GB of on-board memory plus an expansion slot for an optional 32GB microSD memory card.
Barnes & Noble is also claiming up to 11.5 hours of reading or 9 hours of video on the Nook Tablet with a single charge, versus 8 hours of reading and 7.5 hours of video on the Kindle Fire. Whether those numbers hold up after real-world testing, however, remains to be seen.
It runs apps, but can't access Google's Android Market
Like the Nook Color before it, the Android-powered Nook Tablet won't have access to the hundreds of thousands of apps in Google's Android Market. That said, Barnes & Noble says it'll offer "thousands" of apps customized for its new tablet, including apps from Netflix, Hulu, and Pandora, along with games like Angry Birds and Scrabble.
You'll be able to watch videos from Netflix and Hulu
So yes, the Nook Tablet with ship with the aforementioned Netflix and Hulu Plus mobile applications. Keep in mind, though, that you'll have to subscribe to Netflix ($8 a month) and/or Hulu (ditto) before you start streaming movies or TV shows. The Amazon Fire, meanwhile, will stream movies and TV shows via its $79-a-year Amazon Prime service, which also offers free two-day shipping for purchased items from Amazon's online store.
Its predecessor, the Nook Color, just got a $50 price cut
You can now snap up last year's Nook Color, which also comes with a seven-inch color LCD screen, for $199, or $50 off its original $249 sticker price. That said, you'll have to settle for a less-robust version of the Nook Tablet's processor, and you won't get access to Netflix or Hulu. Update: Netflix just announced that its mobile app is, indeed, coming to the Nook Color.
It hasn't been reviewed yet
So, which of these two bargain-priced tablets—the Amazon Fire, or the Nook Tablet—should you get? (At $499 and up, the larger iPad is in a different category.) Well, neither the Fire nor the Tablet will go on sale until later this month, meaning we'll have to wait a bit before reviewers get to take a crack at them. Stay tuned.
Have more questions about the Nook Tablet? Let me know!