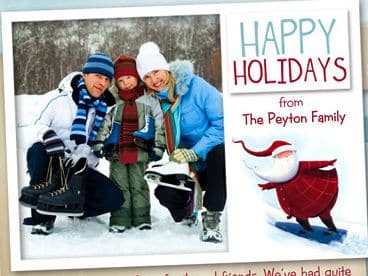 Tired of hokey holiday cards? This year, skip the stationary store, save some cash, and preserve a few trees by creating your own personalized greeting cards online.
I've found a few top-notch, easy-to-use sites that'll help you design, compose, and send the perfect holiday card, which you can send via email, post on Facebook, or print at home. You can even arrange to have your custom card land in a loved-one's physical mailbox, all without touching an envelope or licking a stamp.
Want to send a video greeting instead? I've got you covered.
Hallmark (prices range from free to $15 for an annual subscription)
The granddaddy of greeting-card companies has kept up with the times thanks to its excellent online options. Choose to have Hallmark personalize, print, stamp and send your cards for you (hint: enter either "FREESTAMP" or "FREESHIP" at check out for a great discount) or go with digital e-cards (after all, digital stationary is the new black, right?), complete with your photos and choice of music. Don't forget to check out the online invitations tab to skip the awkward RSVP phones calls.
Evite (free to $4 for a one-month subscription, or $20 for a year)
Nope, Evite isn't just about invitations anymore. Sure, you can still use it to get the word out about your upcoming Christmas party, Hanukkah celebration, Secret Santa gift exchange, or New Year's Eve bash. (As always, guests can see who's invited, ask the host what they can bring, check the time and address online and get directions via smartphone.) Thanks to its partnership with American Greetings, though, Evite now offers personalized greeting cards, too. Add familiar faces to elves or snow angels, paste in a slideshow of the kids around the hearth, or even embed a video of that Thanksgiving snowball fight.
Paperless Post (receive 25 free "stamps" and cards at sign-up, then pay $5 for 30 additional stamps)
This e-card site boasts a lovely, contemporary collection of invitations and greeting cards, à la Martha Stewart or J. Crew. Your recipient opens a virtual envelope and drags out the card and/or save-the-date with a click of their mouse. Banana Republic gift cards are also available to personalize, as well.
Bubble Joy (free)
Got a webcam for your PC or an iSight camera on your Mac? If so, you've got everything you need to spread a little Yuletide cheer with Bubble Joy, a free service that lets you upload and send instant videos with personalized holiday backgrounds to friends and family. Warning: Bubble Joy's user experience isn't exactly stellar (I'm talking to you, pop-up instruction guy) and you'll have to set up a free BubbleComment account before creating a video, buy hey … that's the price you pay for free.
Care2 (free)
Send an e-card and make the world a better place at the same time. Care2 (a name that makes a bit more sense once you read its tagline: "Make a difference") is a green-lifestyle site that lets you send free e-cards with ads that generate donations for over 350 non-profit organizations. Care2 also offers the option of making a donation in lieu of gifts, a great last minute option.
Bonus: Some Cards
Looking for something completely different? The choices at Some Cards range from hilariously bizarre to deadpan, and be warned: you may find a swear word or two.