Updated! Whether you want to turn lights on and off with your iPhone or program a robotic vacuum to sweep your floors, you can join the "smart home" club without spending an arm and a leg. Get the scoop on a Wi-Fi-enabled smart plug, a smoke alarm that sends alerts to your iPhone or Android phone, a smart thermostat that you can program using a touchscreen, a robot vacuum that steers clear of furniture and stairs, and more.
TP-Link Smart LED light bulb
Price: $20 on Amazon (43% off)
Here's one of the easiest—and cheapest—ways to get smart with your home appliances. This "smart bulb" from TP-Link connects to your home Wi-Fi network and comes with its own smartphone app, perfect for programming an on/off schedule, a timer, or even dimming the light with your iPhone or Android phone. And like most of the products in this roundup, the TP-Link bulb is compatible with digital home assistants like Amazon Alexa or Google Assistant, although neither are required to use the bulb.
Check out the TP-Link Smart LED light bulb on Amazon!
---
TP-Link Smart Plug Mini
Price: $35 on Amazon (30% off)
You can turn practically any home appliance—from a lamp to a fan—into a "smart" device with help from TP-Link's Smart Plug Mini. Just plug the Smart Plug into any wall outlet, then connect it to your home Wi-Fi network. Once that's done, you can control the plug using the included iPhone or Android app, perfect for turning your devices on and off remotely or putting them on a timer. You can even activate an "Away Mode" that switches your appliances on at random times to fool burglars.
Check out the TP-Link Smart Plug Mini on Amazon!
---
Amazon Echo Dot
Price: $50 on Amazon
Nope, you don't have to spend north of $100 to control your home appliances with your voice. The compact Echo Dot connects to your Wi-Fi network and acts as a voice-activated digital assistant, letting you play music, get the news, set alarms, or control your "smart" lights, plugs and other devices, all without lifting a finger. Want more than one Echo Dot? If you act before April 27, you can get $20 off an order of three Dots; just use the code DOT3PACK at checkout.
Check out the Amazon Echo Dot on Amazon!
---
Blink Home Security Camera System
Price: $99 on Amazon
Ever wish you could make sure everything's OK at home while you're on a far-flung vacation? This Wi-Fi-connected smart camera lets you do just that. Connect the AA battery-powered camera to your home Wi-Fi network, place it on a bookshelf, a wall, or anywhere else in your home, then keep an eye on things using the included iOS or Android app.
Check out the Blink Home Security Camera System on Amazon!
---
Schlage Connect Smart Lock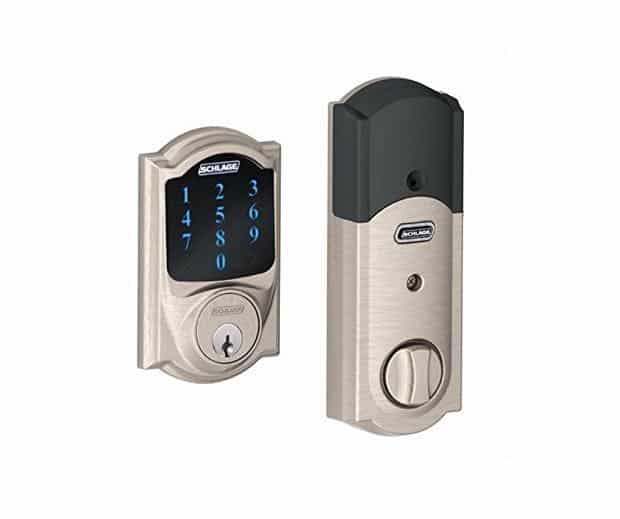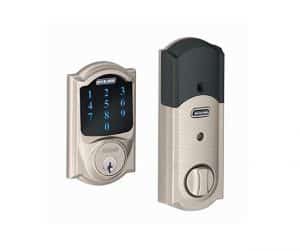 Price: $153 on Amazon (15% off)
Note: The following pick was contributed by Alysa Kleinman, Editor at Smart Home Solver.
Smart locks add security to your home. They let you track who is coming and going as you send unique codes to different guests. You can set them to lock automatically at bedtime or if you leave home. There is also a convenience factor: it's nice to walk up to the door and have it unlock effortlessly, without having to fiddle for the keys. Schlage Connect is my pick over its competitors because it works with Alexa, includes a keypad, provides ultra strong security, and works with popular hubs like SmartThings and Wink.
Check out the Schlage Connect Smart Lock on Amazon!
---
Nest Protect Smoke & Carbon Monoxide Alarm
Price: $119 on Amazon
Your trusty smoke alarm won't do much good if there's no one around to hear it. The Wi-Fi-enabled Nest Protect smoke detector will send an alert to your iPhone or Android phone if it senses a dangerous smoke condition, and it'll ping your phone if its batteries are running out. My favorite feature: a "heads-up" mode that'll warn you if smoke is building up while you're cooking.
Check out the Nest Protect Smoke & Carbon Monoxide Alarm on Amazon!
---
Sensi Smart Thermostat
Price: $129 on Amazon
Sick of fumbling with your thermostat's clumsy controls? Thankfully, you can control the Sensi Smart Thermostat with your iPhone or Android phone, meaning you can set a heating or cooling schedule on your touchscreen rather than pressing teeny-tiny buttons. Winner of a J.D. Power "customer satisfaction" award, the Sensi Smart Thermostat is compatible with Amazon Alexa, and the app even comes with an installation guide for do-it-yourselfers.
Check out the Sensi Smart Thermostat on Amazon!
---
EcoVacs Deebot N79 robotic vacuum
Price: $200 on Amazon
This top-rated robotic vacuum will work tirelessly to keep your floors clean. The EcoVacs Deebot N79 comes with a battery of sensors that lets it navigate obstacles, avoid drops, and find its way back to its charging station, while an anti-collision feature keeps the vacuum from banging into your furniture. The N79's three-in-one brush helps the vacuum tackle dust, dirt and hair on your floors and rugs, and you can program the Wi-Fi-enabled N79 using an iOS or Android app.
Check out the EcoVacs Deebot N79 on Amazon!
If you buy something through our Deals posts, we may earn some money. Thanks for the support! Also, keep in mind that the best deals sell out quickly, discount codes eventually expire, and sale prices may change without notice.