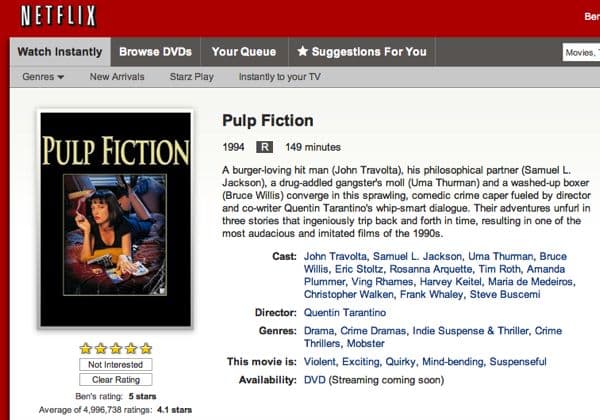 Some of the best movies of the 1990's will soon be available for instant streaming on Netflix, which just finalized a digital distribution deal with legendary movie studio Mirimax.
Among the classics to go the streaming way on Netflix, starting in June: "Pulp Fiction" (one of my personal favorites of all time), "The English Patient," "Cold Mountain," "Good Will Hunting," the two "Kill Bill" epics, "Bad Santa," "Clerks," "Cinema Paradiso," "The Piano," and dubious Best Picture Oscar-winner "Shakespeare in Love."
A Wall Street Journal article from last month reported that the five-year, $100-million streaming deal covers a good 700 titles from the once-prolific studio, which saw its heyday back in the early 90s as a home to such maverick independent filmmakers as Steven Soderbergh, Kevin Smith, and, of course, Quentin Tarantino.
The storied studio was eventually scooped up by Disney, making for an odd, uneasy pairing between the squeaky-clean Mickey Mouse and John Travolta's blood-splattered Vincent Vega. The studio still managed a remarkable run of Best Picture winners in the 90s ("English Patient," "Shakespeare in Love," and "Cold Mountain" among them) but saw its fortunes slowly fade in the 2000s, with a private holding company finally buying Mirimax from Disney last year.
Meanwhile, the deal represents yet another coup for Netflix, which is getting an impressively solid slate of streaming movies for its $100 million—something of a bargain, considering the billion-plus big ones the movie-rental giant is said to have plunked down for 2,000 movies from cable network Epix.
Last but not least, Netflix subscribers are getting a gold mine of content for their eight bucks a month, as Netflix's "Watch Instantly" selection morphs from a sad pile of misframed, poorly mastered grade-Z movies to a streamable (and often HD-encoded) feast, particularly for those with a taste for foreign and art-house flicks. Good stuff.