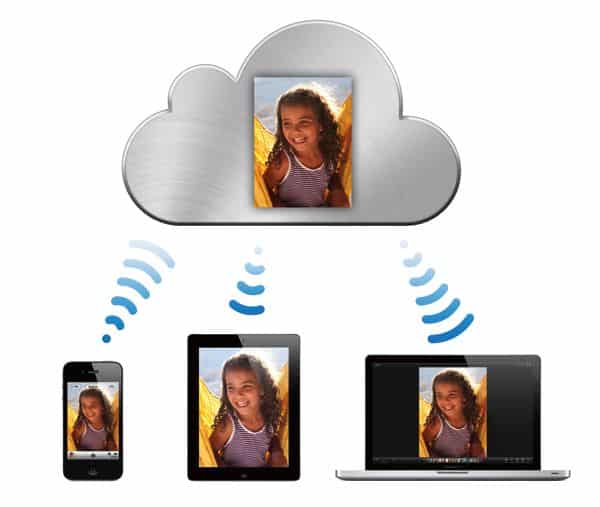 Not all that long from now, Mac, iPhone, and iPad users will be able to store
their contacts, calendars, photos, music, and more in the "cloud"—or rather, in Apple's iCloud, to be precise.
Slated to go live in the fall, Apple's new service promises to keep you personal data and media on a bank of remote servers, accessible wherever there's an Internet connection.
Very nice, and it's all free—well, mostly free. While you'll be able to store a relatively generous portion of data and media in iCloud for the low price of zilch, additional space (not to mention a key music "matching" service) will cost you extra.
What will iCloud users get for free?
For starters, you'll get 5 GB of storage for your Address Book contacts, iCal calendars, email, and documents (such as text, presentation, and spreadsheet files from Apple's iWork software suite), which you'll be able to share with your various iDevices—including your Macs, iPhones, iPads, and iPod Touches.
You'll also be able to store up to 30 days worth of photos snapped on your iPhone or iPad, with your "Photo Stream" automatically uploaded to iCloud and then "pushed" to all your other Macs and devices. (While photos stored in iCloud will be deleted after 30 days, you can—of course—keep your snapshots forever on your Mac's hard drive or in an album on your iPhone).
Another key iCloud feature is already live: namely, the ability to re-download any previously purchased song, application, TV shows, or e-book from Apple's iBookstore to any of your Macs, iPhones, or iPads.
What's not free in iCloud?
If you have a truckload of email, contacts, calendar events, and documents you'd like to store in iCloud—or more than 5 GB's worth, at least—get ready to pay extra.
(Related: Apple's new "iCloud": Your questions answered)
Apple just revealed its pricing scheme for additional iCloud storage (MacRumors had the early scoop Monday), and it breaks down like this:
10 GB of extra storage for $20 a year (for a total of 15 GB);
20 GB more for $40 a year (total of 25 GB);
or 50 GB extra for $100 a year (total of 55 GB)
By the way—your 30-day Photo Stream and purchased music, TV shows, apps, and e-books won't count against your free 5 GB of iCloud storage, Apple notes.
Speaking of music, another for-pay service will be available once iCloud launches in the fall.
Dubbed "iTunes Match," the new service will scan all the music files on your hard drive (including any that you ripped from a CD) and "match" them with high-quality versions on iCloud, which you can download to any of your other Macs, iPhones, or iPads.
Nice—but not free, with Apple poised to charge $25 a year for "iTunes Match," including storage for up to 20,000 "scanned and matched" songs.
Have more questions about iCloud? Let me know!