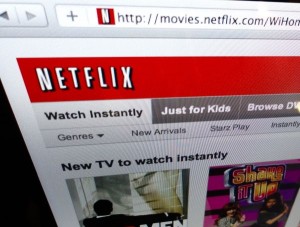 Netflix's new and pricier (in some cases, at least) subscription plans kick in this month; ready to pick a new one?
Also: How to watch Flash videos on the iPad; Sony unveils a pair of tablets that go where no tablets have gone before; how to review tagged photos of you on Facebook; Samsung's massive smartphone; and a classic HP calculator marks its thirtieth anniversary.
Netflix's new, pricier subscription plans about to kick in; which one's right for you?
If you're still signed up for one of Netflix's cheaper streaming-and-DVD combo plans, it's decision time. Read more…
How to turn on Facebook's new "Profile Review" feature
Facebook's new privacy controls let you check any photo you've been tagged in before it pops up on your profile—but you'll have to tweak your settings first. Read more…
Sony breaks the mold with new Android tablets
Kudos to Sony for trying something new with its upcoming Android tablets, one of which looks like a folded-over magazine, while the boasts dual screens. Read more…

Is there an app for watching Flash videos on my iPad? (reader mail)
Nope, Apple's iOS platform doesn't support Flash, but that doesn't mean you're out of luck when it comes to viewing Flash videos on the iPad. Read more…
The HP 12c Financial Calculator from 1981: 30 years later, still on sale
Hewlett-Packard's best-selling 12c financial calculator first went on sale 30 years ago, and it's remained in stores ever since. Read more…
How to restrict access to all your old Facebook profile posts
You can lock down access to all your wall posts in just a few clicks—but once you do it, there's no easy way to undo it. Read more…
Samsung's massive 5.3-inch Galaxy Note smartphone; how big is too big?
Samsung's new Galaxy Note boasts an eye-popping 5.3-inch display, nearly two inches larger than the iPhone's puny 3.5-inch screen. Read more…
U.S. to AT&T: Not so fast with the T-Mobile merger
Worried that consumers like us will be the losers if and when AT&T manages to gobble up T-Mobile? Well, it looks like the U.S. government couldn't agree more. Read more…
Clear plastic film turns Apple's Magic Trackpad into Magic "Numpad"
The Mobee Magic Numpad includes a trio of plastic films printed with number keys, perfect for Magic Trackpad users longing for an old-fashioned numeric keypad. Read more…
Remote video camera for iPhone keeps a watchful eye over a room
Is it a baby cam, a security cam, or a spy cam? That depends on how you plan on using the new iZon Remote Room Monitor for the iPhone, iPad, and iPod Touch. Read more…
Dish Network's "Tailgater": A 10-pound, cooler-size satellite TV dish
Want to take your TV with you to the big game, or the great outdoors? Try this portable satellite dish on for size. Read more…
Why isn't my iPad charging? (reader mail)
Need to quickly recharge the iPad? The USB port on your older Mac probably isn't up to the task. Read more…
Digital pen transmits your scribbles to a PC or smartphone
Still like taking notes with paper and pen? Try a digital pen and receiver that can store your doodles and transfer them to your PC, Mac, or smartphone. Read more…
Note: here's the thing will be taking a break for Labor Day, but never fear—posts will resume Tuesday. See you then, and have a great weekend!